Updated 27 Dec 2022
Yay!  We have the updated Bivalent COVID vaccine booster for ALL patients 6 months old and older ! This shot protects even better against the new variants- NCDHHS Video.  The Bivalent booster is for patients 6 months and older 2 months after their last dose of COVID vaccine. Updated vaccine is important for everyone, especially our elders- remind the grandparents!
Paxlovid (an oral anti COVID medicine) is available for high risk patients who test positive for COVID, are 12 yo+ and >88 pounds. NC DHHS has a new telemedicine program for those who don't have a doctor.
Flu vaccine is available at all three offices- please call or portal message for a nurse only appointment.  This is an early and bad flu season –CDC flu map has MUCH more flu activity than we normally see in mid December. (Purple is worse/more flu activity than deep red.)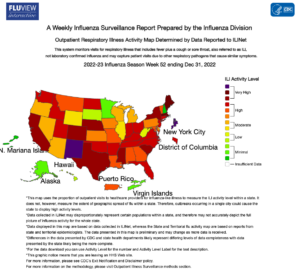 COVID vaccine for children 6 months and older is available at all 3 offices- Video PSA- Kids Have a Spot to Take their Shot.  We now have both Moderna and Pfizer available for 6mo-5 yo.  Pfizer only for >= 5yo! Please call for an appointment or send us a portal message.
Infant formula shortage questions- see AAP Healthy Kids site  for updated information- Information from NC Dept of Health and Human Services. Can't find formula for your baby younger than 6mo? Please call or portal message us!    Escasez de fórmula infantil
COVID– Pfizer and Moderna vaccines are still very protective against hospitalization and death, so please get vaccinated and boosted ASAP as recommended below!
COVID vaccine is recommended for ALL children 6 months old and older.  AAP, AMA, AAFP & ANA leaders ALL strongly recommend COVID vaccine for children 6 months and older- National video – NC DHHS video
Check to see if you are up to date on COVID vaccine using this handy CDC Site
If you have questions about the vaccine, please call for an appointment so we can answer your questions!
You can fill out forms for COVID vaccine appointments at Sandhills Peds to save time:
Immunocompromised patients (eg kidney transplant, leukemia) should get a third primary dose 28 days after their second dose.
Sandhills Pediatrics is vaccinating patients 6 mo + and any family members.  Please call for an appointment or ask us about it next time you are in the office.
Breastfeeding– is a reason to get the COVID vaccination (protects mom and maybe even baby) and we encourage all of our nursing mothers to receive it.
Pregnancy–  CDC issued an urgent appeal for ALL pregnant people to get vaccinated 29 Sep 2021. The American College of OBGYN now strongly recommends vaccination for pregnant individuals – see here.  For more answers about breastfeeding and other COVID vaccine questions, click here to access the Children's Hospital of Philadelphia vaccine education center.
COVID Vaccine Incentives- Some insurers are paying patients to get vaccinated- preventing a single hospitalization from COVID pays for lots of patients to get gift cards!
Wellcare– apply for $50 Walmart card

Si tienes el seguro medico de Wellcare y su hijo/hija tiene 5 años omas de edad, y a recibido la vacuna de COVID y recibió la vacuna de COVID desde Septiembre 01, 2021, haga click aquí para solicitar una tarjeta de regalo de WalMart de 50 dolares!

Carolina Complete Health– $75 incentive paid to MyHealthPays card automatically when doctor or pharmacy files claim- details here

Los pacientes con el seguro medico de Carolina Complete Health que sean mayores de 5 años y reciban una primera, segunda o tercera vacuna de COVID desde el 15 de Noviembre de 2021 recibiran 75 dolares en su tarjeta de recompensa (MyHealthPays). Esto sucede automaticamente cuando la clínica factura el reclamo de la vacuna. Un Pago de 75 dolares porpaciente. Los detalles estan aquí
Sandhills Pediatrics was honored to participate in a NC Dept of Health and Human Services Public Service Announcement promoting COVID vaccine.   PSA1- 30 seconds    PSA2- 60 seconds
—
Looking for information on Coronavirus COVID-19? New information is available daily, so we'd like to point you to the continuously updated CDC website for the most reliable information.  We recommend you follow the sensible precautions from the American Academy of Pediatrics provided here. To help us keep your child and other patients healthy, if you suspect your child has a Coronavirus COVID-19 infection, please do not come to walk-in clinic!  Call us and let us know about possible exposures so we can discuss the best plan to provide safe and high quality care.