Updated 2 April 2021
As of 2 April 2021 Sandhills Pediatrics is participating with Medicaid Health Plans Carolina Complete Health, Wellcare and NC Medicaid Direct. 
Starting 1 March 2021 patients who have insurance through Medicaid or NC Health Choice will begin to receive letters telling them whether they stay in Medicaid Direct (the current system) or move to the new system of Medicaid and NC Health Choice run by insurance companies called "managed care".
Patients will be able to choose which plan to participate in between 15 March 2021 and 14 May 2021.  Patients who have to move to a Medicaid health plan  and don't chose a plan by 15 May 2021 will be auto enrolled into a health plan by a computer program.
We encourage all our patients who will have to move to "managed care" to chose a health plan before 14 May 2021.
This new system of paying for healthcare for NC Medicaid and NC Health Choice beneficiaries in NC will start 1 July 2021.
The main Medicaid Transformation website is at https://ncmedicaidplans.gov
You can also contact the enrollment broker to pick a plan at
:
1-833-870-5500 (TTY: 1-833-870-5588)
Hours of operation: 7 a.m. to 8 p.m., Monday through Sunday
Please note as of 20 Feb 2021 the provider lookup tool still doesn't list all the plans Sandhills Pediatrics participates with- we are aware and have sent requests for this to be fixed.
[caption id="attachment_696" align="alignnone" width="558"]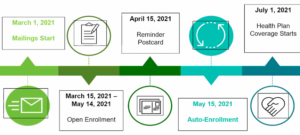 Timeline for Medicaid Transformation Launch[/caption]
FAQs
What should I do right now to get ready?
The first way to get ready is to make sure Sandhills Pediatrics is listed on your Medicaid or NC Health Choice card. If it is not, and you still want to see Sandhills Pediatrics after 1 July 2021, call your local DSS office to have us added to your card. Please make sure they have your current address!
If you can't reach your county DSS, you can also call the Medicaid Contact Center 1-888-245-0179
Press 1 for English
Press 1 for English again
Press 1 if you currently have Medicaid.
Press 1 to change your healthcare provider.
If you want to be seen at any of the Sandhills Pediatrics offices, you can give the central office address at 195 West Illinois Ave, Southern Pines, NC 28387. 910-692-2244
The
next
way to get ready (after 1 March 2021) is to go to
https://ncmedicaidplans.gov
and pick your plan.
Comparison website between Carolina Complete Health and Wellcare
If I get a letter saying my children stay in Medicaid Direct, do I need to do anything?
No
Why is this change happening to NC Medicaid and NC Health Choice?
The NC General Assembly passed the first of three medicaid transformation laws in 2015.  Link to Bill
Background from https://medicaid.ncdhhs.gov/transformation
"In 2015, the NC General Assembly enacted legislation directing DHHS to transition Medicaid and NC Health Choice from fee-for-service to managed care. Under managed care, the state contracts with insurance companies, which are paid a predetermined set rate per enrolled person to provide all services. The Department was on track to go live Feb. 1, 2020; however, new funding and program authority were required from the General Assembly to meet this timeline and Medicaid Managed Care was suspended in November 2019. In July 2020, legislation authorized the restart of Medicaid Managed Care transformation efforts with a July 1, 2021, launch date for Standard Plans and a July 1, 2022, launch date for Behavioral Health I/DD Tailored Plans. "
NC Medicaid FAQ
Please let our staff know if you have any questions!
Anything Else?
If your child is enrolled in free and reduced lunch, make sure you don't miss out on the P-EBT benefit.  The Pandemic Electronic Benefit Transfer (P-EBT) program helps families purchase food for children whose access to free or reduced-priced meals at school has been impacted by COVID-19 because students are learning virtually, outside of brick-and-mortar schools.
English One Page Explanation of P-EBT Benefit
Spanish One Page Explanation of P-EBT Benefit
Child Tax Credit
On 11 March 2021 President Biden signed into law the American Rescue Plan Act of 2021. This new stimulus package includes major changes to the child tax credit of up to $3600 per child <6yo and $3000 per child 6-17 yo , Many families will begin to receive some of this money as a monthly payment in July 2021.  The fastest way for the government to send you money is electronically, so please make sure to list your children when you file your taxes  and include a current checking account! Taxes are complicated- more info
here
.  Child tax credit calculator
here.